No, that's not the title of a movie, that's how far along I am in my pregnancy now.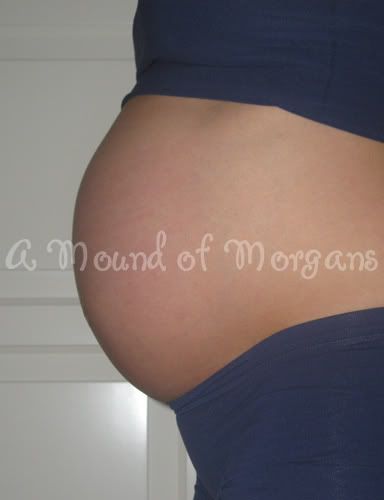 My midwife did another visit with us today and little miss Aniela is doing great. She is approximately a little over 5 lbs. in weight now and is as active as ever. She is also still in the breech position. I'm not worried about it though. My midwife keeps reassuring me and keeping me uplifted about the situation, which is definitely something I need, and she told me that breech homebirths do occur and though they can be a bit more difficult, they are possible. However things go, I have faith in God and my body that we can bring this little girl into the world safely.
Talan certainly enjoyed himself today during my midwife's visit. I love that he can be so involved in what is happening during this pregnancy. My midwife is great including him too. Today she let him tinker around with her fetoscope which is what she uses to listen to the baby's heartbeat. Mr. T thought it was just the greatest thing! I don't think he even heard anything because the earpieces were everywhere except in his ear canals, but he enjoyed himself nonetheless. Poppa Morgan took some photos for Aniela's "first year of life" book that we will make (we did one for Mr. T as well). Poppa is using a camera about as much as I do nowadays.
I often wonder if he understands what it is going on. I think that he understands that there is something inside of my belly moving that makes him giggle whenever he feels it, but I often wonder if when we say "baby" and point to my belly, or sign baby, that he understands that there is an actual baby inside of me. Only he knows for sure. Regardless, he certainly enjoying feeling his little sister's kicks and sometimes I can be sitting down and unconsciously rubbing at my belly, and he will walk up and pat it a few times. If she moves and he feels it, then most of the time he'll giggle and run away, LOL!
I can't believe how close we are to meeting our daughter. Approximately six weeks to go before the bun in the oven is done!