Momma Morgan here and I'm taking back the reigns of my blog.
To my wonderful husband who took control over my blog for 3 days, thank you! What you all out there don't know is that I didn't even ask him to do it. We were all just sitting around after Aniela's birth, and out of the blue Poppa Morgan said "Hun, do you want me to update your blog and let everyone know about the baby? I can do it if you want me to." He was so ready for the world to know that our little angel had arrived. As I hopped online this morning and read comments and messages and e-mails, I was glad to see that everyone really loved his posts, even if it were only three of them. I even had some e-mails stating that he needs to do a guest spot again. When I told Poppa Morgan this information, he responded "I will check my schedule and get back to you." That's my husband!
Also, thank you to everyone for all of the congratulations and warm wishes. They are much appreciated.
Now, for Miss Aniela's birth story.
Wednesday, October 28th, 2009
I started having what I thought to be just very strong Braxton Hicks contractions. Then, one hit me pretty hard and that's when something told me to keep track of when these pangs occurred. I realized that these surges (that's what us Hypnobirthing moms call them) were occurring in a certain range, about 12 to 15 minutes apart. As everyone knows, Braxton Hicks are random and sporadic, so I was indeed having contractions. My boss was in a meeting so I left a message with her secretary to let her know that I was leaving for the day as it seemed that my daughter was preparing to arrive and I didn't want our design studio to become a birthing studio as well. I called Ted once I got to my SUV and let him know that I was heading home because I was having surges that were pretty regular. I told him that they weren't very strong, but they were happening, and I felt it best for me to just go home. He told me he was going to get off from work too and come home, which I figured he would do. I told him to go ahead and pick Talan up while he was at it. I also called my midwife and let her know what was going on.
Fast forward to 9 o' clock ... yeah, 9 o' clock, PM. Dinner had been made and eaten, Talan had been nursed, bathed, and put down for the night, and my contractions, well they had almost completely fizzled out. They had lost all sequence and order and were even milder than they were earlier in the day. I still had minor surges here and there, but again they were randomly occurring and weren't very strong, basically like Braxton Hicks. My midwife had come by and stayed for some hours, but we all figured that the little girl wasn't going to be making an appearance that night, so she left, Ted and I hit the shower and then the hay.
Thursday, October 29, 2009
I was awakened Thursday morning around 5:30 AM by a very strong surge. I didn't wake Poppa Morgan as it was just one surge, so I just went downstairs, put "Return to Me" into the DVD player, and started watching it. I have this nifty little gadget called that
KickTrak
that does numerous things, including time contractions, so that's how I kept track of how often the surges were occurring. I guess Poppa Morgan realized that I had gotten up because he came downstairs about 10 minutes after me.
Just like with Talan's birth, I used Hypnobirthing relaxation techniques. When pregnant with Mr. T, I read the Hypnobirthing book and Poppa Morgan and I took the classes as well. Ted called our parents and a few of our friends to let them know what was going on. One of my best friends (and the mother of my Godson) Katie is a professional photographer who photographed Talan's birth, so naturally we enlisted her to photograph Aniela's as well. Our friend's Matt, Kevin, and Eric helped Ted to prep the birthing pool in our bedroom. After they finished and everyone else had arrived, we all just sat around and hung out like we always do. We watched movies and talked about random happenings, and just enjoyed each others company.
Around approximately 10:15 is when I would say the pressure down below was really strong and I had began to get uncomfortable, so Ted and I, and Katie, made our way upstairs to our bedroom (everyone else stayed downstairs). About 10 minutes later my forewater broke and I asked Poppa Morgan to call my midwife and have her come on over. We had been giving her progress reports throughout my labor, but now I felt as though my contractions were strong enough and close enough together that the little girl could come any minute.
My midwife came straight over, got prepped, and checked my cervix. To my surprise I was only 6 cm dilated. She had us go ahead and get in the pool. Sometime later, my midwife started to look at me a bit funny. She told me that she noticed that I was "grunting" whenever I talked, which is generally a sign that a woman is working with her body to push the baby out, though she may not realize it. And to be honest, I didn't realize it! My midwife didn't ever get a chance to check my cervix again as before we knew it, I was giving full blown pushes. I found that I was more comfortable on my knees with my arms resting on the edge of the pool. Poppa Morgan stayed behind me, rubbing my back and reinforcing me to keep me focused. He was so wonderful and just his presence was so much help in my labor process. The next thing I knew my midwife said she felt Aneila's head, and once her shoulders were out she allowed Ted to help bring our little girl forth. After 41 weeks and 5 days of being in my womb, Aniela Grace arrived at 11:21 AM, head first I might add. If you all recall, from 28 weeks forward our little angel was a bit stubborn and remained breech. My midwife found that she had turned head first when I was about 41 weeks and 2 days.
We stayed in the pool for about 20 minutes, giving Aneila's cord time to stop pulsing. My midwife and I wiped her down and then I nursed her, all while soaking in the water. Then, Ted cut her cord and helped me get out of the pool get dry and wrapped up in my robe. My midwife weighed and measured Aniela (6 lbs, 2 oz, 19 1/2 inches long), wrapped her up all nice and snuggly, and myself, my husband, and our daughter all got comfy in our bed.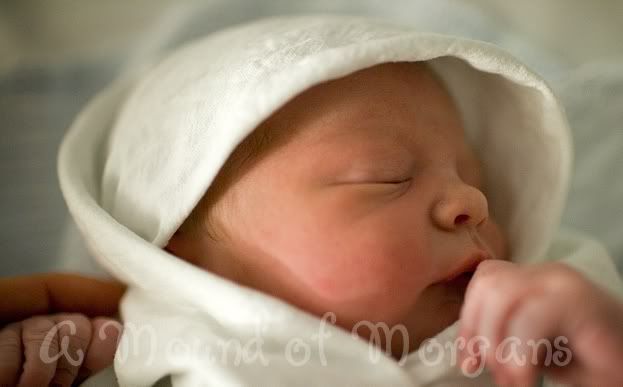 I had Katie go downstairs and get Talan and bring him up. As Ted mentioned in his blog post, Talan was, and still is, a bit on the fence about his sister. He will touch her hand or pat her head from time to time, but he hasn't really embraced the whole "new baby" concept yet.
Today is Aniela's third day with us and every day, both Poppa Morgan and I can't help but to look at our beautiful children and thank God for blessing us with them and giving us the opportunity to be their parents.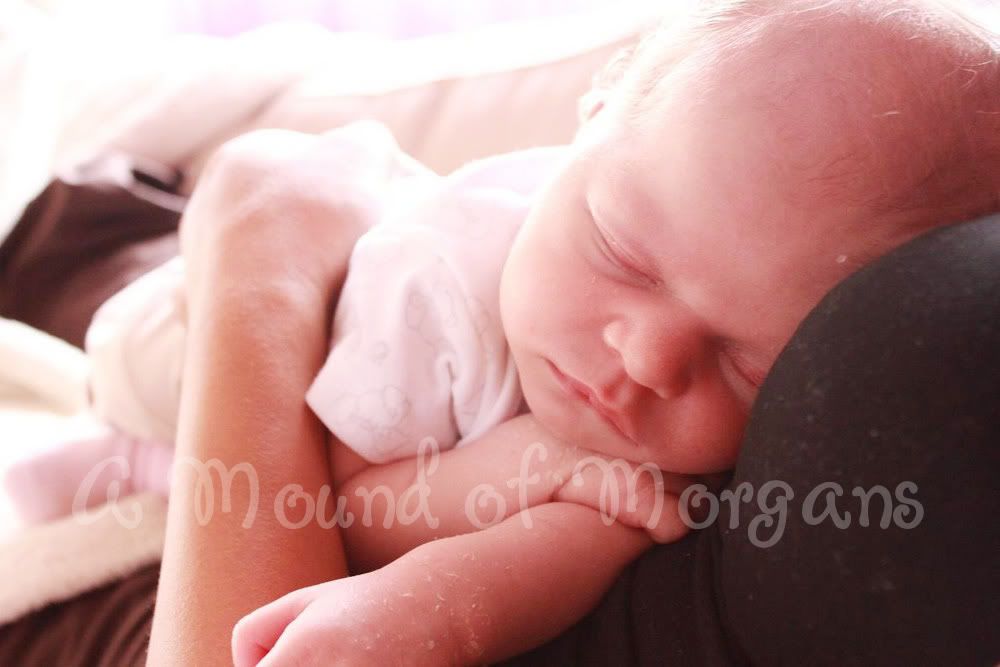 We're still learning about this new little blessing, but I have personally learned that when she wants something, she is going to let you know. There is no shame in our little girl's game when it comes to crying. If she wants something, she's going to cry, period. As for eating, she nurses every 2 to 3 hours for about 10 to 12 minutes. And yes, I am still nursing Talan, though I have a feeling that he is about to wean himself. He is so into learning about the world around him that he doesn't have time to nurse anymore. I do, however, plan on expressing milk for him up until he turns 2 years old.
As you can see in the photo above, Aniela's skin has been just flaking off. I didn't ever have this problem with Talan. He shed, but not in big flakes like Aniela has been. I called our pediatrician and spoke with him about the situation. He informed me that it is normal for babies that are born past their due dates to shed in big flakes. Why? Who knows, but I just wanted to make sure it wasn't anything worse than it is.
My midwife will be coming over soon for her last visit with us. She has been absolutely wonderful throughout this entire process, and when we have our next child, I will certainly be using her services again.
Thanks again to everyone for the warm wishes and support. I look forward to sharing more about the new little lady in our lives with you all.